Do you own the same car for years now? Has your car become too old and unroadworthy? Are you planning to get rid of it and looking for a convenient method to sell your unwanted and old car? If so, then you are at the right place. This article will highlight the different ways of selling your old car and making the best money out of it.
Firstly, you need to know that even if your car is not in a good condition, it is worth a dime. You can easily earn a lot of money by selling your old car, no matter how old it is or how bad the condition is. Apart from selling your car, you can also sell the car parts separately and earn a good amount of cash. So, no matter what you will make money for your old, damaged, or unwanted car and also clear up space in your yard or garage.
Sell your car for cash for car services
If you are in a hurry and want to sell your car quickly, hiring cash for car services is the most convenient option. The cash for car services are very fast, simple and you get an opportunity to earn a good amount of cash for your old and unwanted vehicle. However, make sure to look for reputed and well-known cash for cars in Mandurah by taking the help of the internet. You will be provided with a whole lot of options to choose from. So, the best option is to shortlist a few reputed names, know about their services, and choose the one that best fits your requirements. You can also ask for references from your family members or friends to know about the best cash for car services in your area.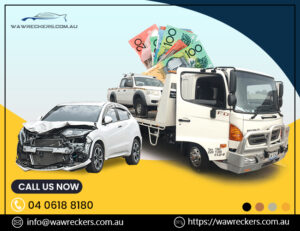 Once you decide on the particular service, call them and ask them to send their team of wreckers to the location to inspect the vehicle. After the inspection, the expert car wreckers will offer you a quote depending on the condition of the vehicle. If you are satisfied with the quote, you can accept the offer and they will get your car removed at no extra cost charged from you. You don't have to worry about the brand, model, or condition of the vehicle as these things hardly matter to any car wrecker.
Why choose a cash for car services? 
One of the obvious reasons for hiring cash for car services is to get the best cash possible for your old, unwanted or accidental car. Disposing of your old car is an important financial decision. So, it does not make any sense to keep paying taxes, insurance fees for a vehicle that you no longer use. The cash for car service providers recycle and reuse the old car parts, they may be able to provide you with a fair deal. In addition, they will give you instant cash offers.
Another thing about cash for car services or car removal companies in the eco-friendly method that they use to dispose of your old vehicles. By recycling the old cars over and over again, the car removal companies are not only saving the planet but also helping car owners keep their vehicles on roads for a bit longer.
 When the car reaches a certain age, it is common for some parts to stop working. Repairing or replacing the parts can become quite expensive. But, giving your old and unwanted car to car owners and receiving money in return is less expensive and a profitable option. The car removal companies accept all vehicles, irrespective of age, make, model or condition. So, you need not worry about anything when selling your old car for cash. However, it is important for you to choose the right cash for car service provider or car removal company.
It is important that you consider the reputation of the car removal company that you are planning to hire. The company should be able to provide you with a good deal for your used, unwanted, and old car. So, before you make a final decision, make sure to go through the customer reviews and get a quote from them.
You must ensure that the quote you receive for your old car is fair enough based on all the important factors of your car such as the condition, make, and more.
The company should be flexible to schedule appointments based on your needs. They should be able to provide you with fair offers without any obligations and hidden charges.
Make sure the cash for car service provides you choose pays you for all kinds of vehicles, irrespective of their age, make, model, or condition.