Having a junk car sitting in your garage can be somewhat frustrating, especially when you are not sure how to get rid of it. Thankfully, it is possible to still squeeze some value out of your clunker by selling the auto parts individually. However, removing the valuable parts out from your vehicle can require a lot of time and expertise. Since time equals money, you do not want to waste too much of it trying to dismantle your old car. After you disassemble the auto parts, you would be required to advertise your car so that you can find a private buyer. In other words, looking for private buyers who will buy your car's individual parts can prove to be quite arduous.
If you do not want to go through the time-consuming process of finding a private buyer, then you can approach car wreckers. Car removal agencies can guarantee you top cash in exchange for your scrap car. This "cash for cars" policy is highly appealing for those who own old cars since not only does it allow them to discard their vehicle, but also enables them to make extra cash. The car wreckers in Perth are some of the best in Australia and they are well-known for their world-class services. So if you would like an alternative and easier option rather than dismantling your car by yourself, reaching out to the top-notch auto wreckers such as the WA Wreckers in Perth is always a great option.
Another way to maximize your profit is by selling the valuable auto parts to private dealers and then selling the remaining scrap car to a scrapyard. So if you are prepared to advertise your car's parts to private dealers online and in newspapers, then here are some of the most valuable items that you must look out for: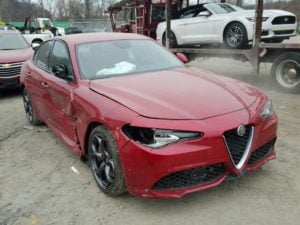 The Engine
The engine and the transmission parts of your car can be installed in another car for further usage. Dismantling an engine might require the assistance of an expert which might include additional costs. So do decide accordingly whether you want to sell the engine individually. Even if your car's engine is not in running condition, it can still be sold to scrap dealers due to its high aluminium content. Depending on the quality and condition, engines can fetch you up to 400$ which makes them highly valued.
The Radiator
The radiator is quite easy to remove from a car since it lies behind the grille. However, make sure that you also remove the coolant before removing the radiator. Whether you sell the radiator to private dealers, a scrap yard, or a recycling centre, it can be immensely valuable due to the high amount of aluminium it has.
Tires and Wheels
The wheels and tires of your car are not only valuable but also easily removable. There are also plenty of options to sell them. First of all, if the tires are still in a good condition, then you could sell them to a shop that buys tires and wheels.
Secondly, you could market them for sale on Craigslist and find a buyer with the same car model as yours as it could be just what the buyer might be looking for. Plus, you could sell them to a scrap yard company.
Air Conditioning System
The cooling system or the air conditioner of your car is another high value item that can be sold separately. The air conditioner of your car might have parts like the compressor and the condenser. Both of these are useful to keep any AC functional. You could sell the AC system to a repair shop, a recycling centre, private buyers, car removal agencies, and so on.
Bumpers and Fenders
Unlike the overly simple and traditional bumpers of the previous decades, bumpers nowadays contain fog lights, brake vents, air inlets, and many more advanced components. All these details and intricacies make them highly valuable. Additionally, bumpers have high demand in the market since they are usually the first parts to get damaged in a car accident due to their positioning. So if you want to sell auto parts separately, don't forget to get the bumpers disassembled.
Similarly, the fenders which lie on the exterior side of the four corners of cars are also quite valuable. The bumper, as well as the fender, can be sold on e-commerce websites and online marketplaces like eBay, Craigslist, Facebook Marketplace, and so on.
On a Final Note
While there are many perks and monetary benefits that come with selling your car's parts individually, you must also be aware of the huge amount of time that will be required to do so. From dismantling the parts to cleaning, and storing them, followed by the marketing and shipment needs, you might need to put careful thought into whether you really want to choose that option. Make sure that you handle the parts carefully and don't damage your car in the process. After the disassembly, reaching out to WA Wreckers can ensure that you get a fair share for the remaining scrap car. To get an estimated price quote for your junk car, dial 1 (855) 587-0227 to reach these professional car wreckers in Perth right away.