When one no longer wants to keep an old car, the first question that pops up is: "What is the actual worth of my scrap car?" Well, you cannot hope to get the maximum profit simply by negotiating with the car's buyer. Many factors influence what your car's selling could be. Calling up the auto experts at the Rockingham car yards could be beneficial for you in this situation. This car removal agency offers cash for cars and is well-renowned for its professionalism.
When you request the price quote from these Ford Wreckers of Perth, you should be ready to provide an accurate description of your car's condition. This could range from the maintenance costs and repair history to any upgrades or features you might have added to the automobile. Perth's Toyota wreckers never hold your car's condition against you and they buy all sorts of salvaged, burned down, or junk cars. Furthermore, selling your car to one of Perth's best car wrecking agencies is way easier than negotiating with a private buyer and dealing with extensive paperwork.
Having said that, if you want to know more about all the factors that can influence a car's value, then continue reading this post. Here is a list of the most important determinants of your scrap car's selling price:
Year & Manufacturer
Depending on the year, make, and manufacture of your vehicle, its value can increase or decrease. Generally, common cars whose used parts are in high demand tend to be more valuable. Moreover, if the car is from a world-class brand and of a superior model, then it will have more value. For example, a scrap Mercedes Benz would be more valuable than a Ford Focus. On the other hand, if your car is especially rare and is termed as a classic, then you could be paid a good sum of cash for it. Many vintage car collectors and dealers are always interested in buying rare cars.
Current Price of Metal
When selling a scrap car, the year of its manufacture also comes into play. Usually, the older a car is, the more value its scrap metal has. The reason for this is that some years back, old cars used to be manufactured from a higher metal content. However, that has changed now since most of a car's outer body comprises plastic and amalgamated metal.
You would be surprised to know that the average car has almost 2500 pounds of steel and 300 pounds of aluminium. That is why you should also consider the current price of scrap metals in the market since these tend to fluctuate. No matter your car's condition, it will still have value because of its scrap metal.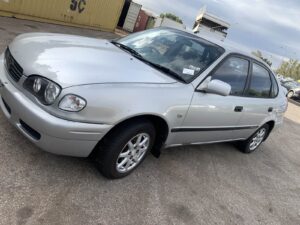 Rust and Paint Job
You should make sure that you protect your car from rust. Although it has nothing to do with the car's presentation, corrosion can depreciate your vehicle's value. So if you notice that your car's paint has started to wear off or if the engine is showing signs of rust, you should give WA's Wreckers a call.
Overall Condition
Next is the overall condition of our vehicle. If your car is still functioning quite well, then it may not be so expensive to transport it to the junk yard. However, if your car's parts are dismantled and broken down, then a few hours might be required for it to be towed away.
Also, if your car's most crucial parts such as the engine, transmission, battery, and bumpers/fenders, etc., are in a good condition, then it can increase your car's price. After standard repair work, these used auto parts can be resold which means you can be offered more cash for your clunker!
Vehicle's Location
Last but not the least; you have to factor in your car's current location. Vehicles that are in demand in one region might not be considered valuable in another region. So you must do a little bit of research regarding the demographics and demand for your car.
Secondly, your car should be in proximity to the car removal agency. If the junk yard is located far away, it might prove to be too expensive to tow a clunker to that centre. That is why you should look for car removal and wrecking services that are nearby.
Even if you are located in the peripheries or suburbs of Perth, there are plenty of top-notch car wreckers who will offer you top cash in exchange for your scrap car. So make sure to call several of these agencies after going through their customers' reviews to compare the price quotes that you are offered.
Wrapping Up
Selling an old car to professional auto wreckers can help save the environment. Moreover, it allows the car owner to earn a profit for getting rid of a clunker. If your car's tyres, seat covers, engine, etc., are in a good condition, then these can be resold. So you should not delay the process of selling your scrap car. After all, it is better to create new space in your garage rather than letting a scrap car gradually rust away there.
To sell old cars in Perth, Rockingham, Kwinana, there is no better option than reaching out to the WA Wreckers. So go ahead and contact WA Wreckers at 08 9542 7997 today. WA Wreckers is Perth's best car removal agency and we are highly reputed for offering top cash to our customers in exchange for their scrap cars. To get a free valuation of your clunker, give us a call right away!